Throughout the semester in the Tiny Games course we had built a variety of games in systems that severely limited our traditional game development process, including Bitsy which allowed for hardly any scripting and only 64x64 pixels, the text-based adventure creator Twine, and finally the robust fantasy-console Pico-8. I was fascinated with creating a game in the classic arcade genre of shoot-em-ups. For one of our first projects in Pico-8, I built the beginnings of what would become the Pandemic Relief project.
As part of the design process, we drew storyboards to get an idea of what actions the player could take in the game, as well as mapped out an initial idea of the data architecture so that we would have a sound footing to begin development. Pico-8 is well documented and has great example code to pull from but has very few helper functions you'd find in a traditional game engine. Almost every function involving gameplay like physics or collision detection has to be created by the developer using Lua, the scripting language. For this project we made it a goal to make as many of the gameplay functions ourselves.
| | |
| --- | --- |
| Brainstorming | Storyboards |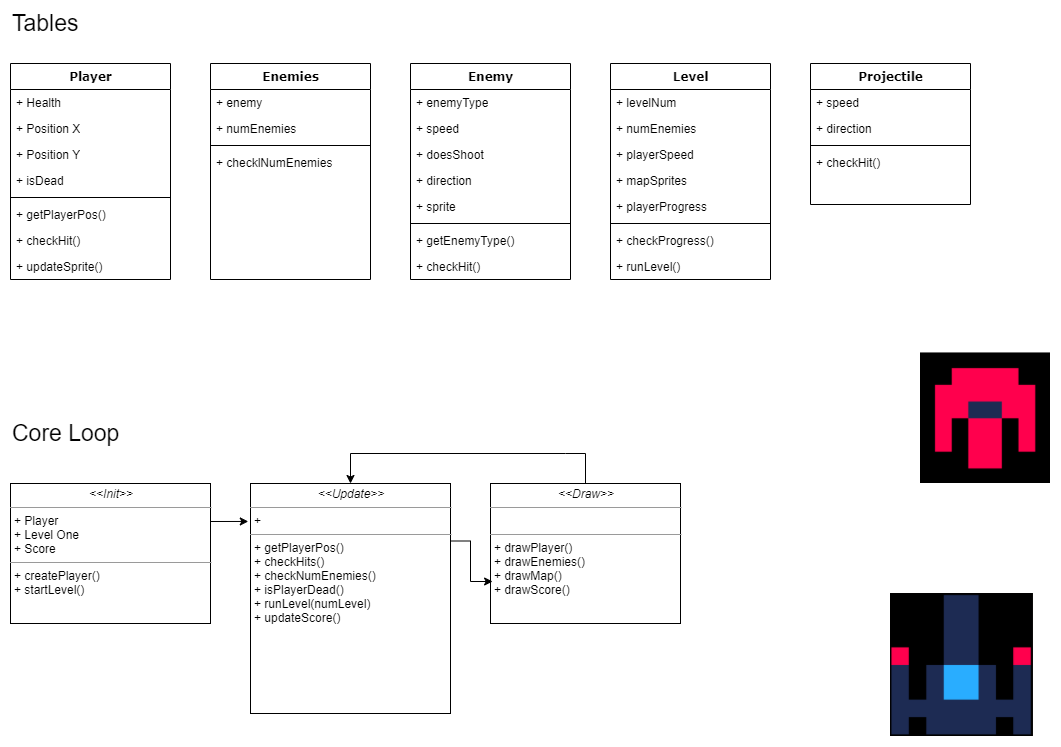 The final version of this Space Shooter game featured enemies that reacted to the players movement, movement animations, and several "levels" of difficulty. I ended up pulling a background star-generation function from the MBoffin Pico-8 instructional zine that we had been using to learn how to develop in Pico-8. The final result worked correctly, and more importantly, felt like a proper SHMUP!
Using the data structure of Space Shooter, and drawing inspiration from the then emergent 2020 Covid-19 pandemic, I decided to make my final project for this class another SHMUP that significantly expanded the game I had already created. You play as an emergency services worker distributing PPE (personal protection equipment) to increasing numbers of people. Careful though, you don't want to hit of the citizens! You can play the final product below.
Some of the new features that I added were multiple enemy types, multiple projectile types, a limited amount of ammo along with ammo refills, a highs core mechanic, and a title screen. There is an end state that gives the player a goal to work towards as the difficulty ramps up, while the player's progress towards this goal is showcased at the bottom of the screen. One thing I am extra proud of is the dynamic tire tracks that show up when you drive off the road, which I feel like really helped build immersion and showcase attention to detail.

| | | |
| --- | --- | --- |
| Title screen | Gameplay | Gameover screen on unsuccessful attempt |